Prescience for Mortals with N.T. Narbutovskih
11/02/2023 11:30 AM - 01:30 PM PT
Admission
$245.00 - Supporting Tuition
$215.00 - Helping Hands
Description
This hands-on workshop will create a supportive, collaborative environment where writers can apply concrete methodologies and skills to create coherent, compelling worlds that give rich meaning to the stories they wish to tell. Each session will focus on applying aspects of design thinking and creativity theory, scenario planning, and systemic thinking in the context of worldbuilding for speculative fiction writers.
Session One: Stories and Perception
Session Two: Perspective and Possibility in Scenario Planning
Session Three: Coherence vs. Completeness in World-building
This is a participation-based class. Come prepared for small group exercises, short writing exercises, and discussions. Video and audio capabilities are required.
This class meets online weekly for three 2-hour sessions.
Meeting Dates:
November 2nd, 11:30 am - 1:30 pm
November 9th, 11:30 am - 1:30 pm
November 16th, 11:30 am - 1:30 pm
Advanced Materials:
The instructor will provide a link to a youtube presentation of about 45 minutes, of which 20 minutes is mandatory.
---
About the Instructor: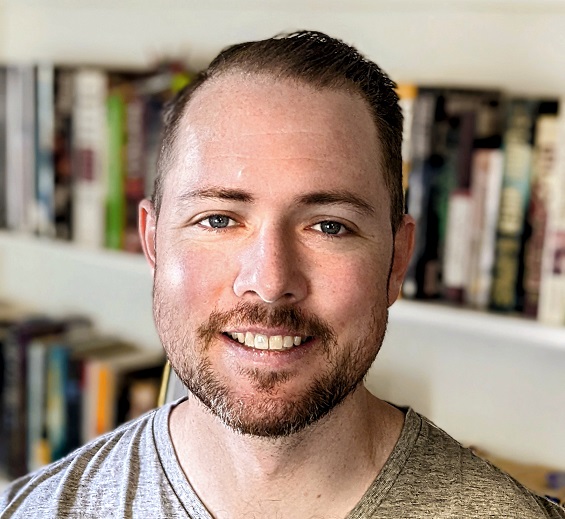 N.T. Narbutovskih is a special operations pilot with nearly two decades of military experience. His debut novel, a space opera that's been compared to The Expanse and Dune, was a bestseller, and his short work has been published in multiple journals and magazines. He has degrees in engineering, operations management, and military operations, which is why he also works as a media consultant. He has spoken at NavyCON, taught at the US Air Force Squadron Officer School, and is a certified creativity and leadership coach.
---
This event will be held in Zoom. By registering for this class, you agree to follow the Clarion West Code of Conduct and Zoom policies.
---
Limited Free Seating:
We offer a percentage of seats in every class to People of the Global Majority (Asian, Black, African, Latina/o/x, Middle Eastern, Indigenous, Pacific Islander, and/or have been racialized as 'ethnic minorities') for free, regardless of financial need.
Eligible folks should fill out this survey to be entered in the lottery for free seats. We will reach out by email 10-14 days before the class begins if there is a seat available. For more information, see our equity and inclusion policies.
Sliding Scale Pricing:
The Supporting Tuition rate is shown for each class or workshop for folks who can pay it. Paying the Supporting Tuition rate enables us to continue to pay our staff and instructors equitably, as well as support access to classes for others who may be in a different situation.
The Helping Hands rate is available to folks under more limited economic circumstances, no matter your background.
For more information, see our financial aid policies.
---
Our Refund Policy:
Clarion West will refund all class fees if the request is made 30 days before the class date. Refund requests made within 30 days of the class will be honored if we can fill the seat.
Any exceptions are subject to approval by our workshop staff.